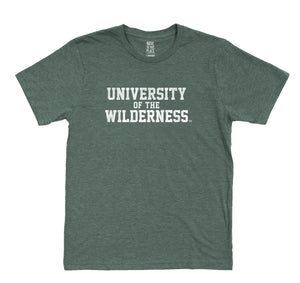 University of the Wilderness
Vintage Green University of the Wilderness Eco T-Shirt
Sale price Price $ 34.95 Regular price
John Muir said it best in his memoir The Story of My Boyhood and Youth, "There with streaming eyes I bade my blessed Alma Mater farewell. But I was only leaving one University for another, the Wisconsin University for the University of the Wilderness."
Like Muir, we can all benefit from an education by mother nature. She is one of our greatest teachers and source of inspiration. Regardless of where you did or did not study, a degree from the University of the Wilderness is surely a life-changing experience. 
The Men's University of the Wilderness Eco T-Shirt is made from organic cotton, recycled polyester (made from post consumer plastic bottles). The result is an eco-friendly shirt that not only helps to remove plastic bottles from landfills but has that ultra-heathered softness you crave in an everyday t-shirt.
THE DETAILS
50% Recycled Polyester, 50% Organic Cotton
Unisex/Men's Fit Short Sleeve
Wash cold, dry low
USA Made & Eco-Friendly